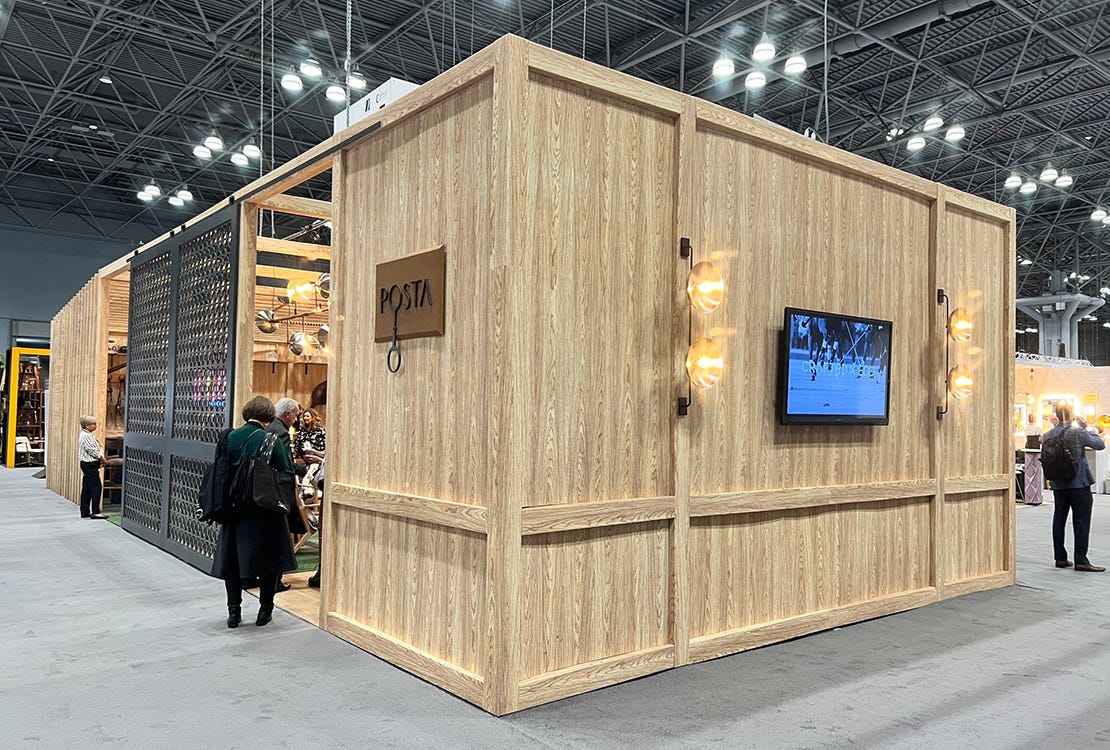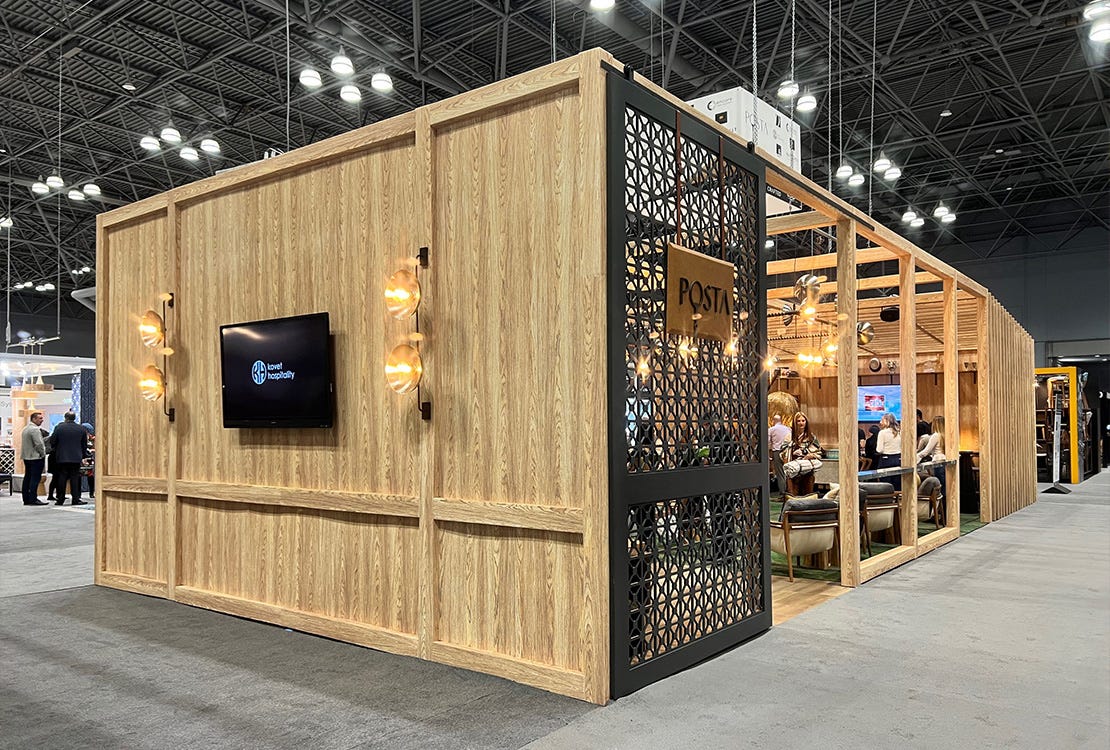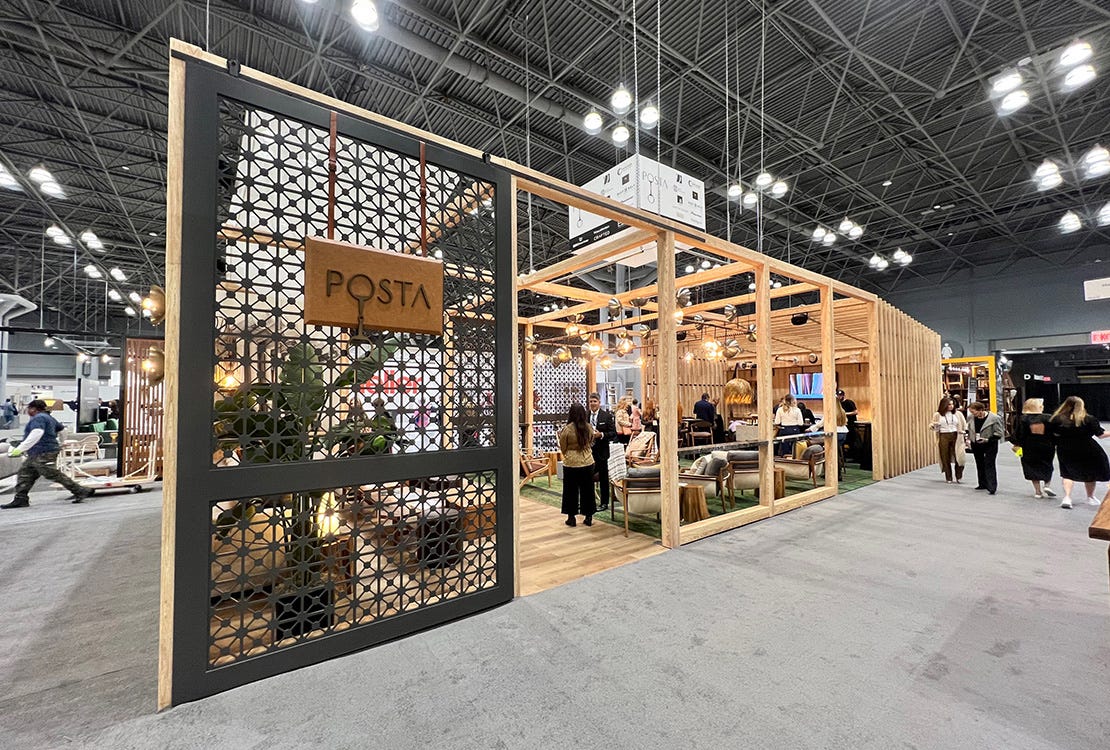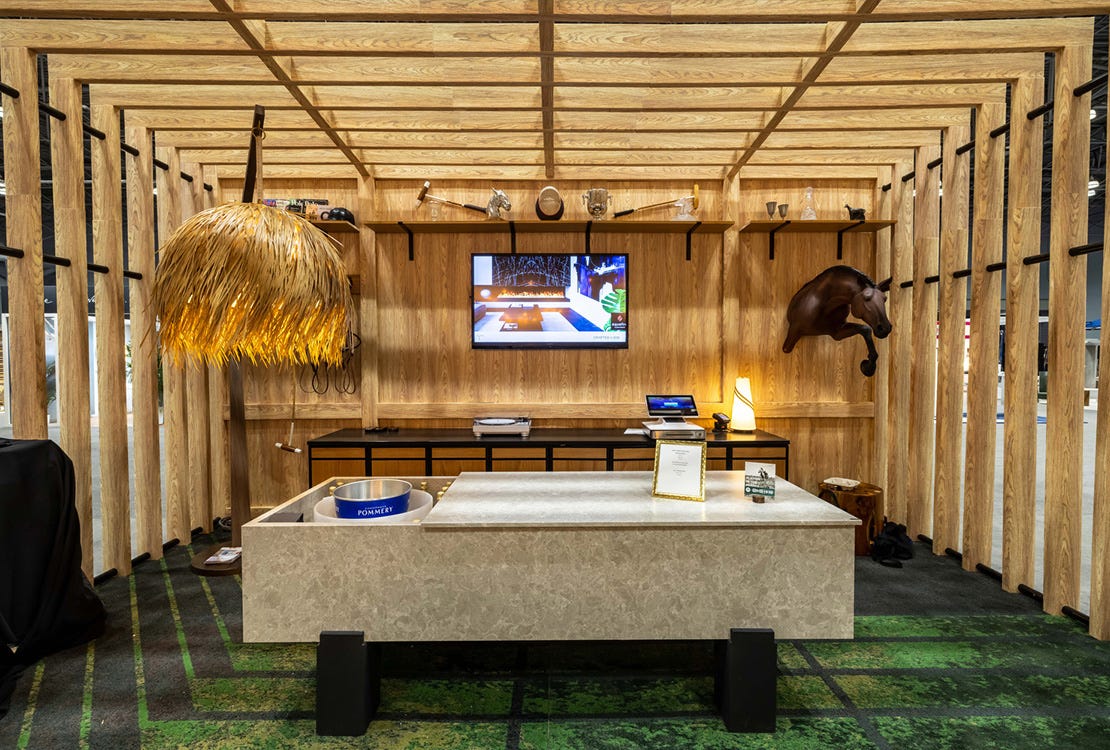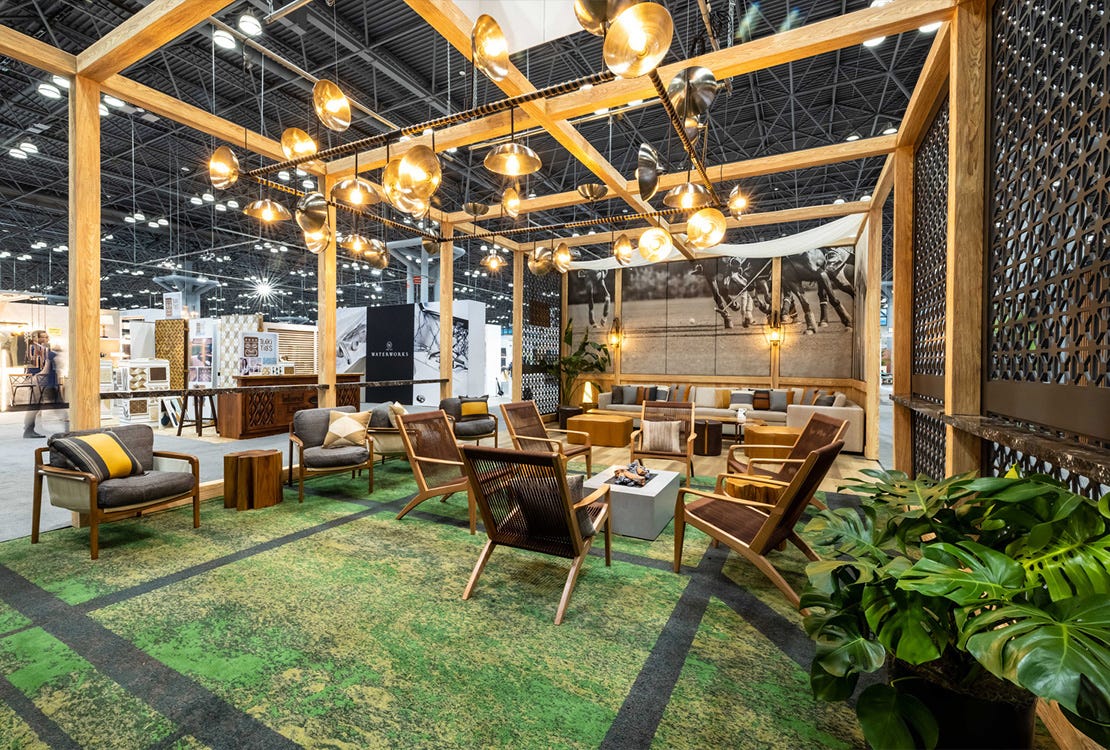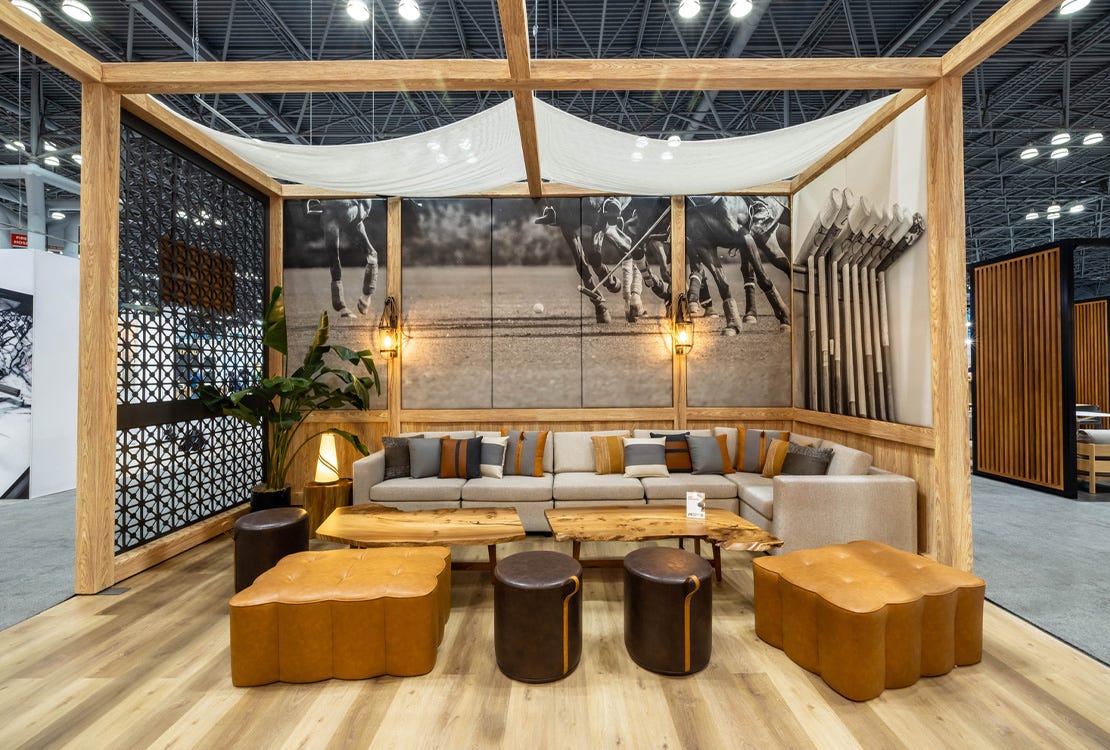 The project
For BDNY 2022 – a Boutique Design trade fair in New York – Fi™ Interiors collaborated with EDG Design and WorldHotels™ Crafted Collection to create an acoustical exhibit structure that housed a combination of indoor-outdoor luxury décor inspired by Argentinian polo clubs.
The client
WorldHotels™ Crafted is a collection of boutique hotels around the world that capture the spirit of the destinations they serve. Each location is inspired by its unique community and culture, creating a geographically authentic, immersive experience for its guests.

Their goal was to showcase that same spirit in their booth space at BDNY, a trade show focused on connecting the world of boutique hospitality brands and designers with exceptional vendors, products, and experiences.
The concept
In collaboration with EDG Design, the concept of Posta was born. This custom exhibit space was designed to showcase a variety of high-end products, positioned together to create an experience inspired by traditional Argentinian estancias (polo clubs). The space hosted several panel discussions over the course of the show and provided a comfortable lounge area to take a pause, discover beautiful interior décor products, learn from industry experts, and engage in conversation.
The solution
Each vendor was carefully selected for their unique product offerings or custom capabilities. Fi Interiors was approached based on our ability to create realistic-looking wooden beams from our lightweight, and durable, acoustic PET felt.

Acusti-fi™, our PET acoustical felt material, is used to bring visual impact and acoustical comfort to interior spaces. This highly-versatile material is customized with a range of finishing techniques, including the option to be printed and formed into three-dimensional shapes, such as wooden beams. Its sound-absorbing properties helped reduce the ambient noise from outside the space.

For this project, the beams required a more structural component, so an extruded aluminum skeleton was constructed, then wrapped in woodgrain printed acoustic felt to achieve the structural integrity and visual aesthetic of a wooden stable.
The result
Posta was a huge hit at BDNY, drawing constant traffic throughout the 2-day event, and accommodating large crowds for the half-dozen panel discussions held in the space. The wooden siding and beam-work structure provided a perfect balance of privacy and comfort combined with a warm, inviting openness.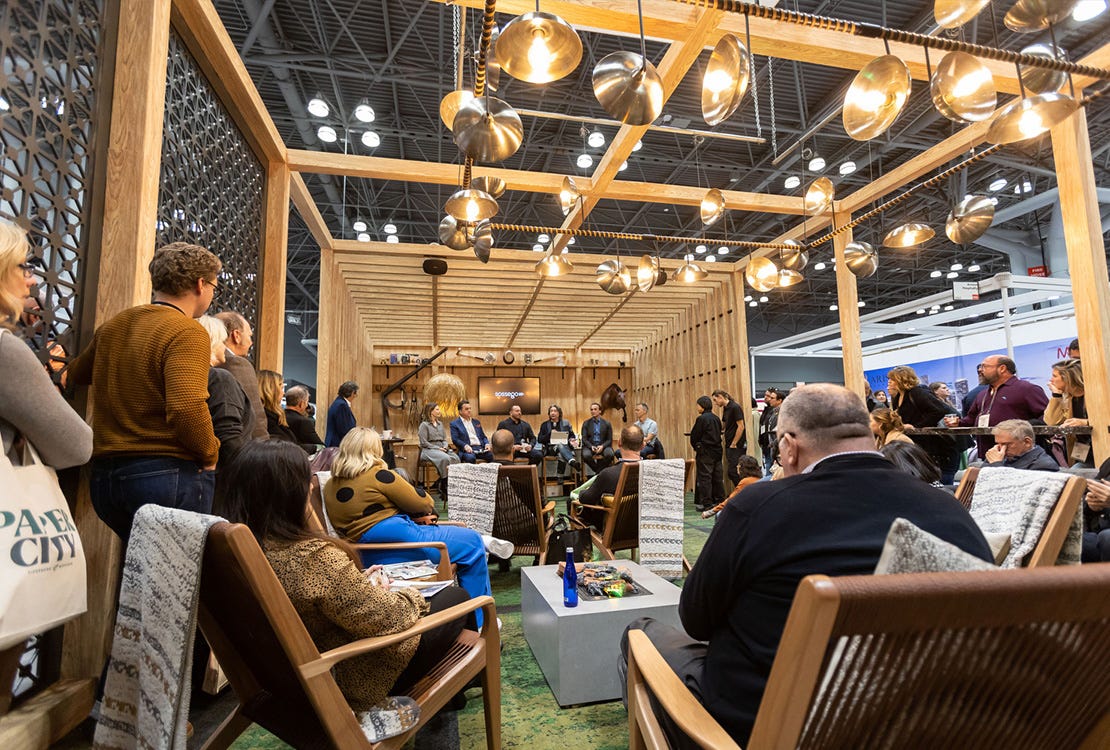 As a design-centric manufacturer with 30 years of experience designing custom solutions, Fi Interiors, a studio of Fabric Images, utilizes a wide range of lightweight, versatile, and cost-effective materials that we can sculpt to fit any space or budget.