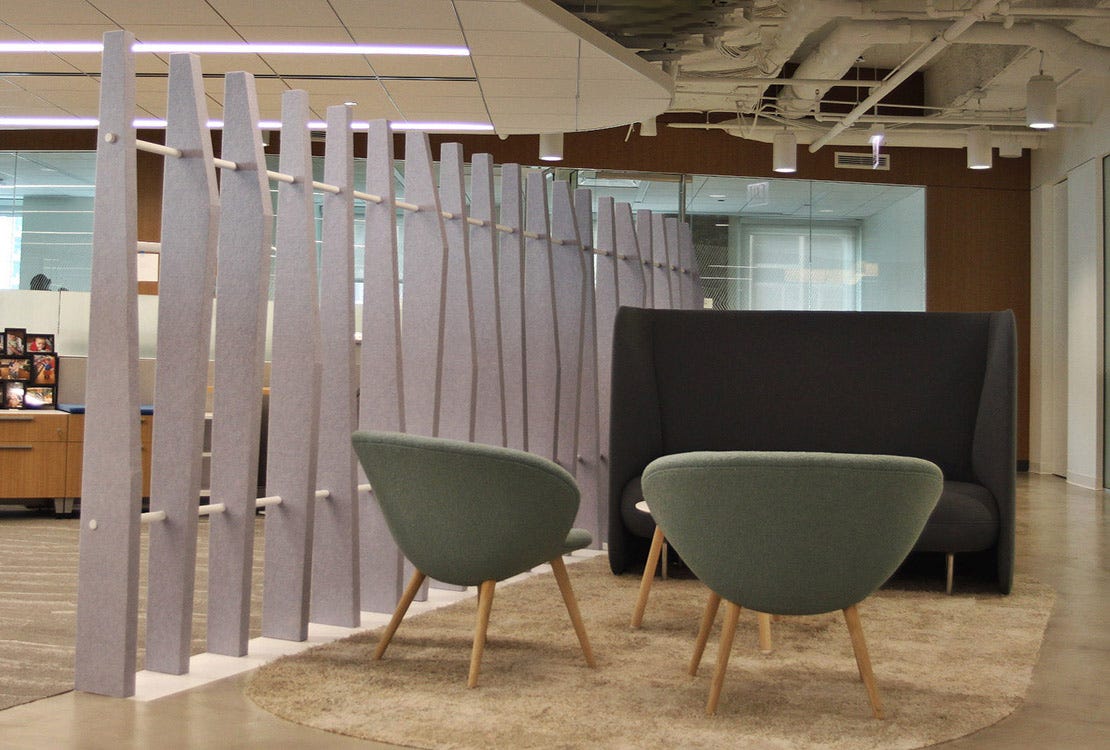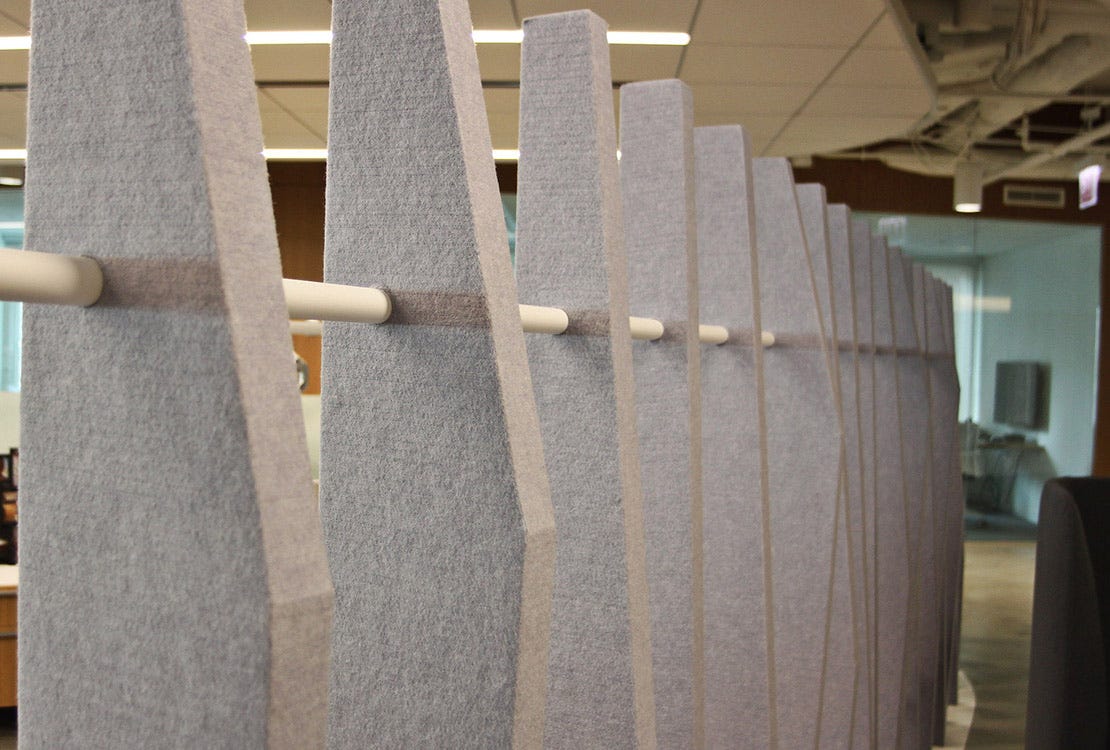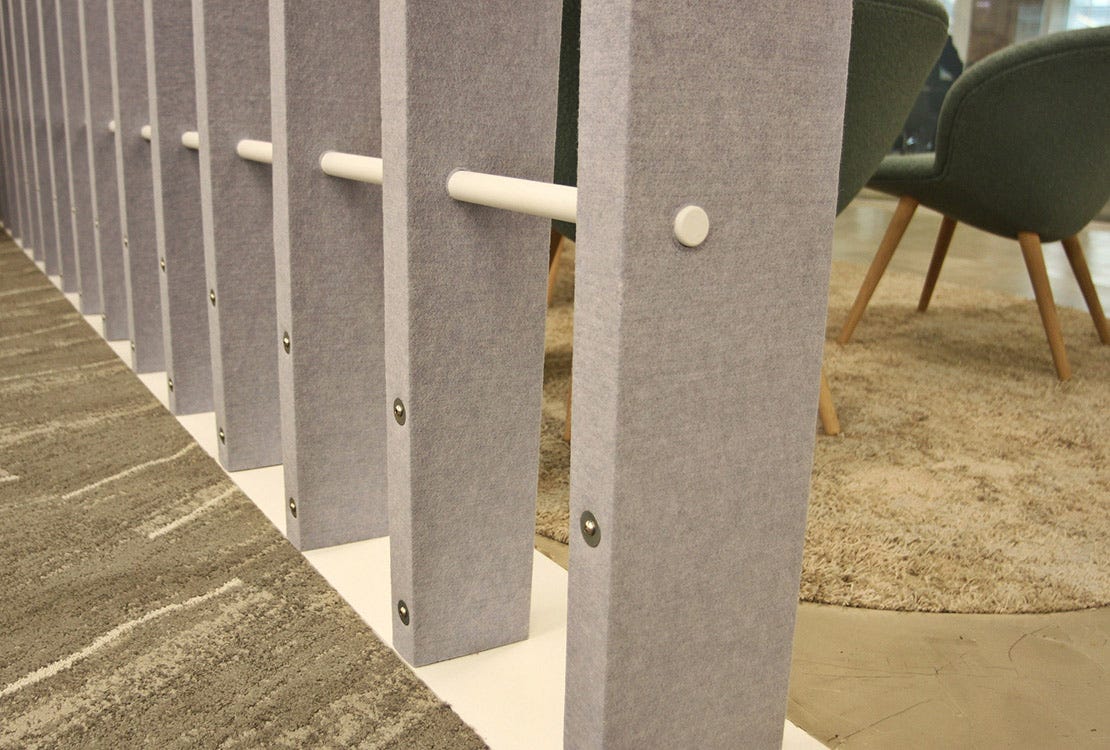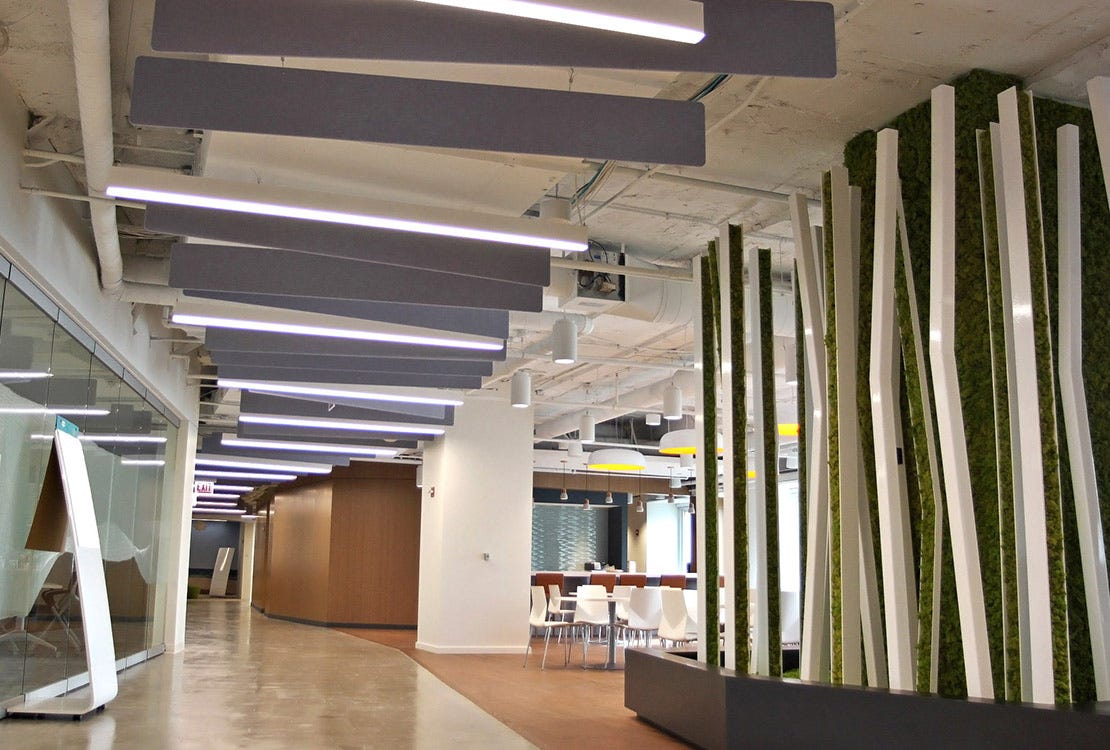 | | |
| --- | --- |
| Client | Hillrom |
| Design by | CannonDesign |
The corporate headquarter relocation of Hillrom, a medical technology company in Chicago, IL, presented an opportunity to dress an empowering brand with innovative style in a healthy way. The space chosen contained open ceilings, concrete floors, and expansive walls. Having a large expanse of hard surfaces like this requires solutions for acoustical dampening. After having had previous successes with projects utilizing Fabric Images, Inc.® acoustical felt, the architect on the project, CannonDesign, contacted the Fabric Images team for assistance.
When first approached, CannonDesign requested Fabric Images to review the acoustic baffles throughout the open hallways. However, upon reviewing the design deck, the FI team saw an opportunity for additional sound dampening through a design feature specified as "millwork." This millwork feature contained a series of 23 custom-designed fins, which were supported directly to the floor and acted as a divider between work zones.
Upon review with the architectural design team, the FI team began prototyping the design, which included using acoustical felt with a 2" finished thickness and 6ft height. A proprietary technique allowed the 3/8" thick acoustic felt to take on dimensional form.
Next, the metal detail was integrated, including two horizontal metal bars interconnected with the fins with a soft white power coated finish.
Lastly, a metal floor plate spanned the length of the partition feature and attached directly to the floor, aligned to the edge of the carpet. The entire solution was engineered, manufactured, and finished by Fabric Images, all under one roof.
In addition to the fins, FI also supplied more than 130 hanging baffles positioned within the lobby and hallways.
Acoustical features offered these benefits to the space:
An increase in surface area for acoustical absorption led to a decrease in reverberation and echo within the space.
The acoustical felt contains a blend of recycled fibers, which speaks to the brand's environmental beliefs.
The addition of acoustically absorbing features created a sound environment, which is linked to increased well-being.
Using the acoustical felt for the fins brought consistency and eliminated introducing another material finish into the space.
By leveraging years of experience and expertise, the FI team was able to review the entire vision of the space and identify and develop a solution that would enhance the overall acoustical performance. The result is a visually striking architectural feature that enhances well-being.