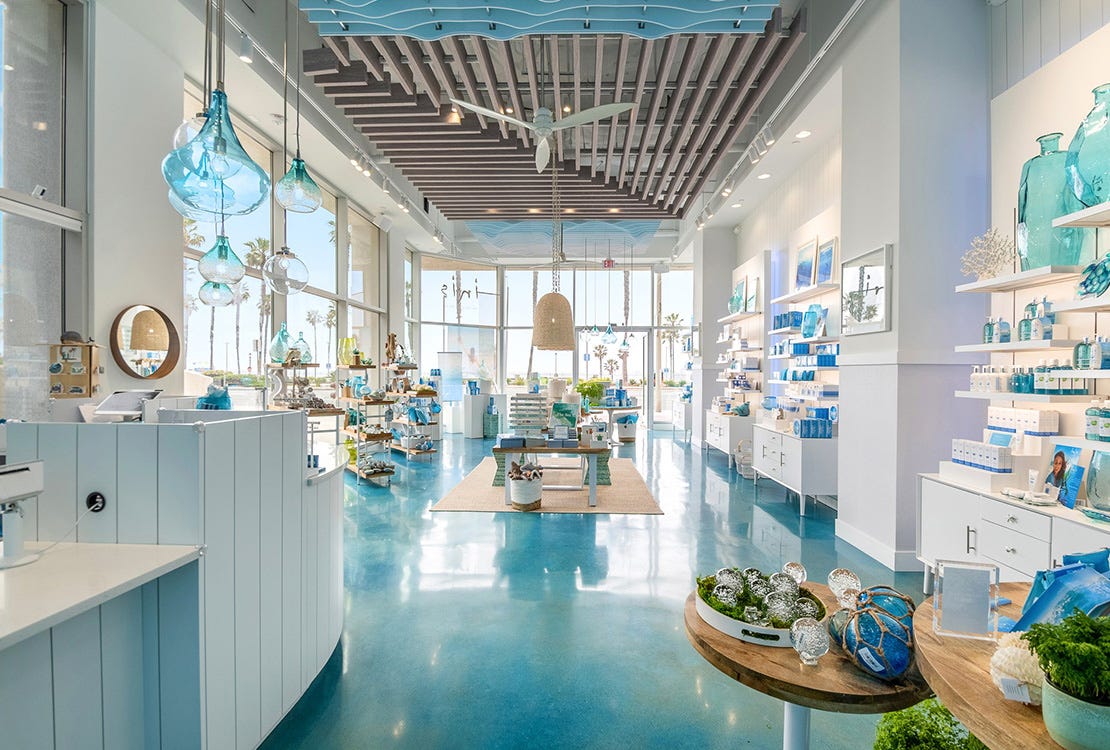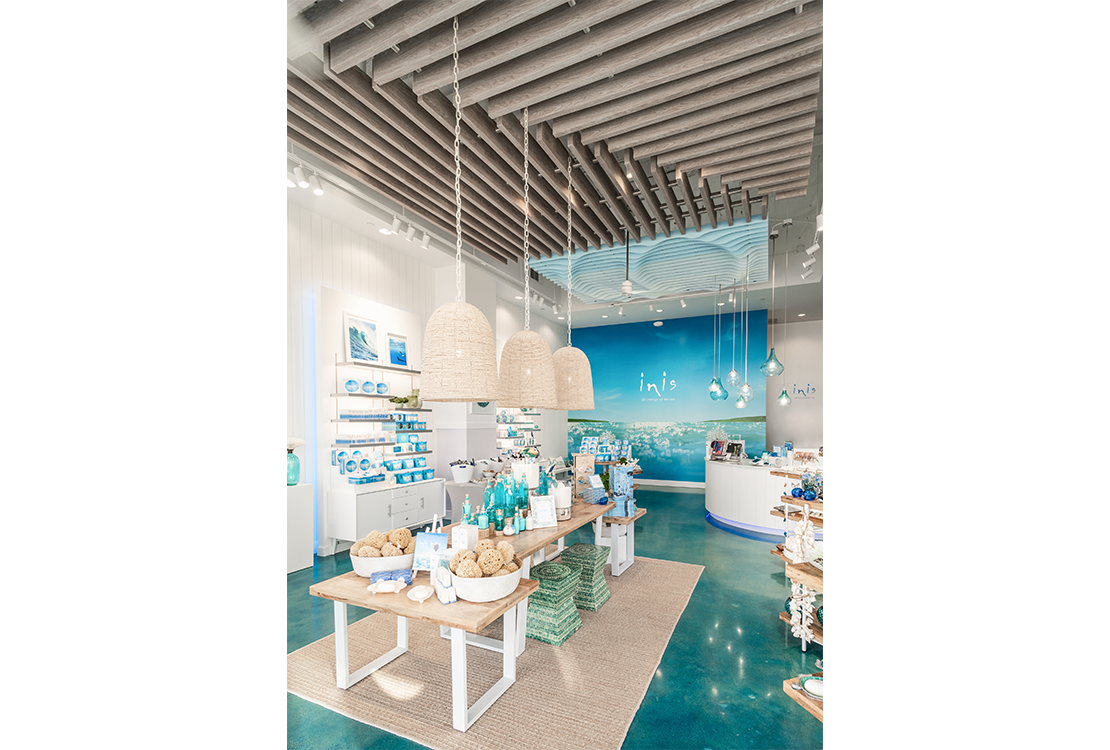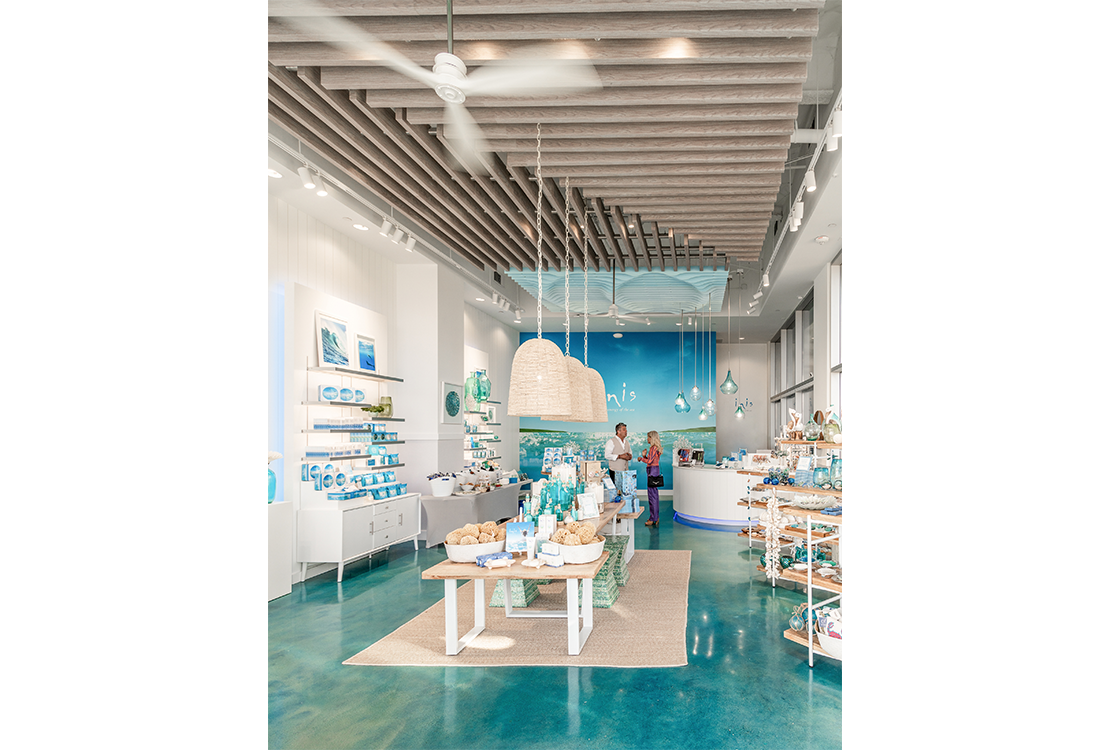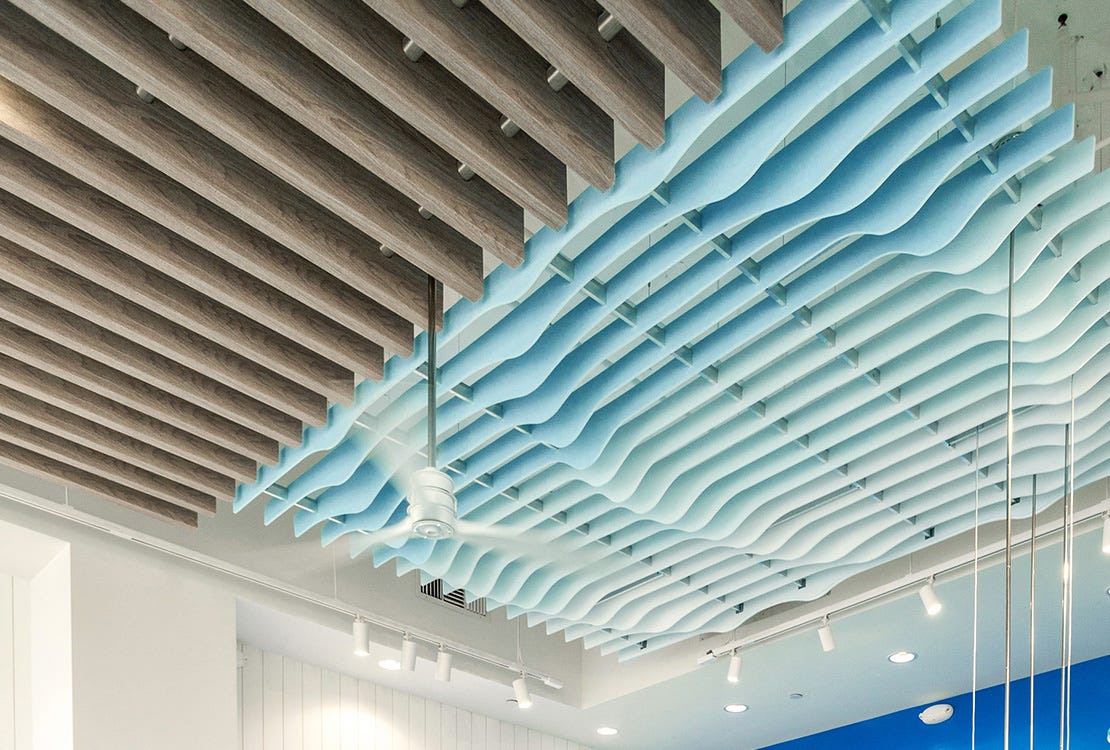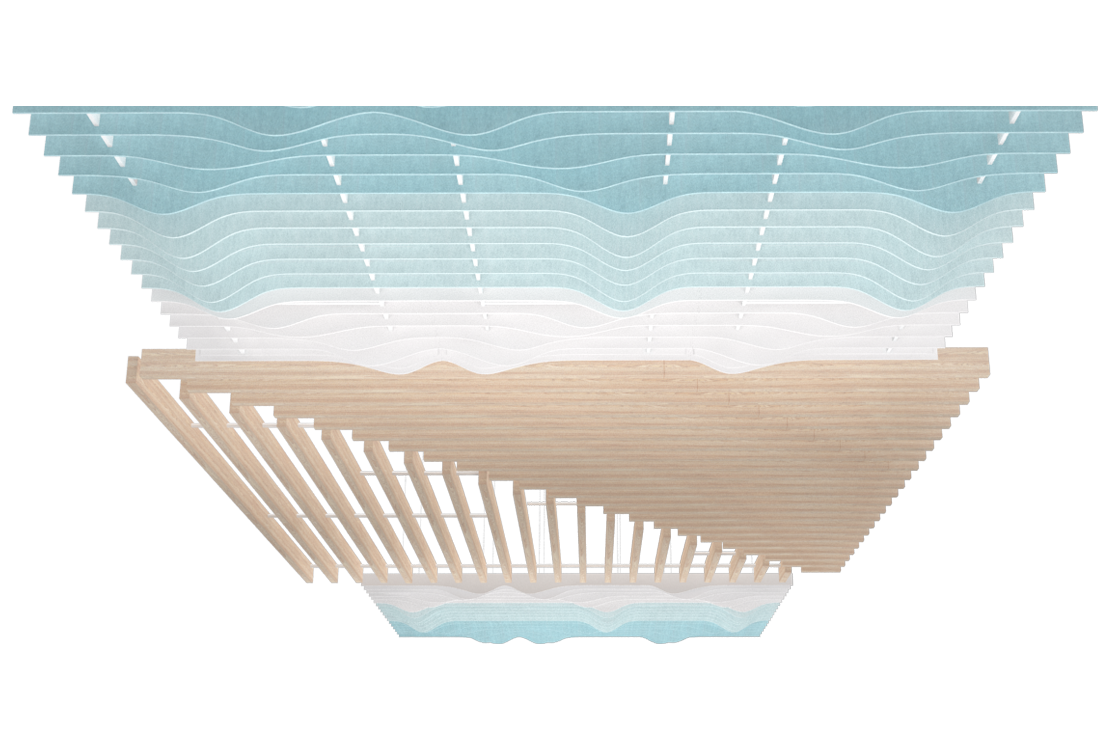 | | |
| --- | --- |
| Client | Inis |
| Designed by | Retail Rehab with FI Interiors |
The Brand Vision
Inis is a brand that stays true to its inspiration. The family-owned boutique perfumery, based in Wicklow County, Ireland, develops perfumes and personal care products that are inspired by nature, water, and the magic of Ireland.

Fi Interiors™ was introduced to Inis via Michael Hale, the Founder and Creative Director of Retail Rehab, a design consulting firm located in Los Angeles, CA. Michael was working with the Inis team to design their US flagship store in Huntington Beach, CA, and was tasked with creating a modern beach cottage vibe that would capture their brand and replicate the "energy of the sea."
Addressing Poor Acoustics
One key challenge with the space was addressing acoustical issues. Hard surfaces such as concrete floors, an open ceiling, and large windows created the perfect recipe for reverberation and echo, which negatively impacts audibility and the overall experience within the space. Inis wanted to create a sense of tranquility within the store, so the sound quality had to be improved.
Well-rounded Solution
When Michael contacted the team at Fi Interiors about the project, we found an immediate fit with our acoustical ceiling solutions, which absorb much of the noise that would typically bounce off of hard surfaces in an open ceiling and lead to reverberation and echo.

This solution aligned well with the designer's vision because it prevented him from having to make sacrifices in how he wanted to dress the floor and walls. It enabled him to avoid a standard t-grid ceiling and instead, add a highly-visual acoustic décor structure overhead, which covered the exposed ceiling, improved the acoustics, and complimented the brand aesthetic.

Versatility in the material was also a selling point in this case. Our Acusti-fi™ acoustic felt is available in 17 stock colors and can be printed to color match or include textures such as wood grain. It's also customizable in terms of size and coverage, which resulted in a tailored solution, specific to the layout of the Inis store.
Responsible Materials
Our Acusti-fi™ material further appealed to Inis because it's comprised of PET felt, which is made from recycled plastic bottles pulled from our oceans. Inis has been a long-time supporter of ocean conservation, contributing to organizations and events that promote plastic-neutral initiatives, as well as the protection, conservation, and understanding of whales and dolphins in Irish waters and around the world.
Collaborative Process
As Michael became aware of our acoustical material and capabilities, he pulled inspiration from our catalog products to create something custom, tailoring it to the Inis brand. He designed a ceiling system that combined our acoustic baffles and beams. He created a mid-section of beams that were printed with a wood grain texture and then applied the brand's specific Pantone colors to baffles on each end of the store to simulate water. The ceiling system covered most of the 1,000-square-foot store.

Once we saw the initial vision for the space, our expert industrial designer was able to leverage her knowledge of the products and materials to offer design and engineering suggestions that contributed to the final look as well as an easy installation process.

In terms of the collaborative process, Michael Hale from Retail Rehab said…

"In looking to solve an open ceiling finish in a raw retail space, I knew that acoustics and design were going to be important factors. Not wanting to do a simple (and boring) t-bar ceiling with acoustic panels, I reached out to Fi Interiors to design a ceiling detail that could drop below the exposed ceiling, mechanical ductwork, and sprinkler system that could still meet CA fire/safety regulations.

The grids and baffles we custom-designed with Fi were the exact solutions I was looking for. Not only did it prove to be financially smart, but it also proved to be a very special element in the store design. Thanks Fi Interiors!"
The Outcome
In the end, the Inis team was ecstatic about the results. The ceiling system provided not only a dramatic improvement in the acoustics of the space but also added to the store aesthetic with a one-of-a-kind, brand-consistent visual statement.